$10 Gift Certificate
Taco John's of Grinnell
Sold Out
Sorry, this item is currently sold out.
In 1968, a small taco stand opened in Cheyenne, Wyoming. The "Taco House" was an instant success with the locals because of the distinctive seasonings in the tasty tacos and generously sized burritos. In 1969, the franchise rights were purchased by two local businessmen, Harold Holmes and James Woodson. The pair decided to name the franchise after the man who opened the first store--John.
The then-unique concept of Mexican fast food first brought in the curious and adventurous customer. Just imagine being one of those bold individuals who tried Potato Olès® back in 1979 when they were first introduced! Over time, these satisfied customers came back to Taco John's® for great food, fast service and fair prices. Taco John's® is now celebrated for our unforgettable value deals like Taco Tuesday®, a promotion which started back in 1982, and for menu items like the Meat and Potato Burrito, which debuted back in 1994.
Taco John's® - Grinnell is open Monday through Saturday from 7 am until midnight and Sunday from 8 am until midnight.


Grinnell Taco John's® Daily Specials:
Sunday- Six-Pack and a Pound® $8.49
Monday- Combo Burrito or Texas Chili $1.29
Taco Tuesday®- Crispy Taco or Refried Bean Burrito $.79
Wake Up Wednesday!®- Breakfast Burrito $1.99
2 Taco Burgers $3.00
Thursday- Taco Bravo® $1.29
Friday- Salads at a discount $.50 off every salad
Softshell Saturday®- Beef Softshell Taco $.99
Text
GRINNELL to 35880 to receive a great offer.
No cash back. No cash value. No carry over. Good at Grinnell location only. Customers may buy and use as many Big Deals certificates as they would like, while supplies last.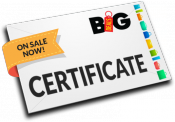 Click images to enlarge.









Taco John's of Grinnell
1020 West Street
Grinnell, IA 50112
Phone: (641) 236-4863
http://www.tacojohns.com